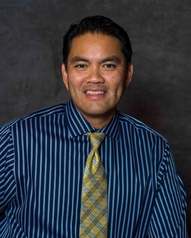 Utah Optometric Association

American Optometric Association
Dr. Roland E. Abundo graduated from the University of California Irvine in 1990 with a Bachelor's Degree in Biological Sciences. He attended optometry college at the Southern California College of Optometry and graduated with a Doctor of Optometry Degree in 1994. Dr. Abundo completed a residency program consisting of Hospital-Based/Geriatric/Primary Care Optometry from the Veteran's Administration Medical Center Sepulveda, California.
In 1995, together with his wife, he moved to the Salt Lake Valley and has been practicing optometry ever since. They have two wonderful and accomplished children. Their family treasures the relationships developed with family, friends and acquaintances. Together they enjoy outdoor outings such as skiing, traveling, basketball, biking, music and the fine arts. He has been a vital asset to the Juan Diego High School community currently serving as board president.
Dr. Abundo is well versed in all areas of optometric care and fully licensed in the State of Utah with therapeutic prescribing privileges. He has great relationships with other eye specialists who offer surgical care such as LASIK, cataract surgery, blepharoplasty, glaucoma, and retinal eye disease.
Dr. Abundo's prides his practice on the personal relationships he has with his patients. He considers them the greatest asset to his practice. Dr. Abundo designed Abundo Eye Care in Midvale with patients' complete care in mind. The practice shares a unique atmosphere of being warm and welcoming. He is excited to share his skills and patient-centered care with us.
This was my first time getting glasses from the clinic itself and I could not be happier! I recently had my eyes examined here and the staff was very nice and pleasant. They were caring, patient and explained everything. I would definitely recommend them.
Experience a personalized eye exam with our Medical professionals today