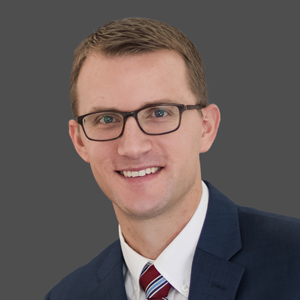 Ophthalmologist and Surgeon

Member of the AAO

Board certified Ophthalmologist
Dr. David Dodds came to Olympus Eye Associates in 2015. He is a comprehensive ophthalmologist specializing in the treatment of a wide variety of medical and surgical conditions of the eye and eyelids. He is current in the most up-to-date management strategies and surgical techniques for both routine and challenging cases including: LASIK, cataract surgery, glaucoma surgery, and eyelid lifts. In addition to routine eye examinations, he treats dry eye disease, some types of ocular cancers, macular degeneration, and diabetic eye disease. He is now accepting new adult and pediatric patients.
Since 2021, Dr. Dodds has served as the Chair of the Ophthalmology Department at Intermountain Medical Center – a Level 1 Trauma Center. His responsibilities include serving on the hospital's Medical Executive Committee, establishing protocols for the best care, and ensuring adequate coverage for ophthalmologic emergencies that are sent to this hospital from all over the region including complicated referrals and traumatic injuries from surrounding states.

Dr. Dodds was raised in Twin Falls, Idaho. He earned an accounting degree at Brigham Young University while completing his pre-med coursework. He completed medical school at Saint Louis University in Missouri where he remained for his ophthalmology residency training at the Saint Louis University Eye Institute serving as chief resident his final year. Although he enjoyed living in St. Louis, the intermountain west has always been home.
Dr. Dodds brings an authentic and upbeat approach to his work. He loves improving his patient's lives and is one of the top lasik eye doctors in Utah. During his training, he was recognized for his patient-centered care receiving the Gold Humanism in Medicine Award, the Roya Rabbani Award for excellence in patient care, and the Outstanding Resident Award. He was recognized as the Volunteer of the Year in 2014 for a national non-profit organization called ReSpectacle which distributes recycled glasses and low-vision devices world-wide to individuals at no cost using the internet. Some of his most fulfilling experiences have come as a result of serving others including missionary service in Japan.
Dr. Dodds loves his family and enjoys spending quality time with his wife and each of their five children at their home in Draper, Utah. They enjoy spending time together outdoors and participating in sports and other community events.
This was my first time getting glasses from the clinic itself and I could not be happier! I recently had my eyes examined here and the staff was very nice and pleasant. They were caring, patient and explained everything. I would definitely recommend them.
Experience a personalized eye exam with our Medical professionals today